Why Dental Issues Just Can't Wait
May 10, 2019
Dental Anxiety, Dental Problems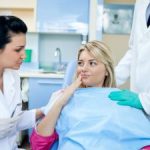 Life is full of unexpected problems. While a broken chair in your dining room or noisy garage door are not cause for immediate action, issues within your dental health just can't wait. In fact, putting off or neglecting dental treatment can lead to far worse problems than you started out with.
Dental problems can come in a variety of forms, from a sudden toothache or jaw symptoms to receding gums or painful sensitivity. Unless you are a certified dentist with an x-ray machine at your home, there's little chance you're accurately diagnosing your dental issues on your own. A trip to the dentist is almost always in order.
Dental complications often start out small, but they tend to get bigger over time. If you wait too long for treatment, you could experience the following:
Worsening pain
More complex and lengthier treatment
Increased treatment costs
Higher risks of infection or complications
Risk of compromising your whole-body health
Longer recovery time
Need to take time off work for treatment and recovery
Most patients put off dental treatments due to time or money, both of which can increase the longer you wait. If you are avoiding dental treatment due to fear or anxiety, you should know there are ways to eliminate your discomfort and ease your stress through sedation dentistry and modern amenities.
Are you currently dealing with a dental problem? Are you wishing and hoping it'll just go away on its own? Please understand the importance of letting a dentist treat your oral discomfort. The investment in your dental health is one that will protect your smile as well as your overall well-being. Call Soft Touch Dentistry today and let us take care of your dental issues right away.
Posted on behalf of Dr. Sarah Thompson, Soft Touch Dentistry
Follow us on:
Soft Touch Dentistry
1214 Paragon Dr
O'Fallon, IL 62269
(618) 622-5050