Root Canals Explained
November 18, 2020
Root Canal Therapy, Saving a Damaged Tooth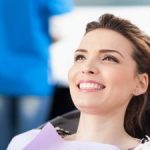 Hearing the term "root canal" may make you cringe. However, it is important to understand that a root canal is no more painful than getting a cavity filled. In fact, root canal therapy is likely your only chance at saving your tooth and alleviating your relentless toothache. Most patients are already experiencing significant discomfort at the time that they are told they need a root canal.
The type of tooth pain that demands a root canal can be unbearable. This occurs because the innermost part of the tooth (tooth pulp) has become infected or inflamed. When the pulp of the tooth is irritated, you may feel shooting pain in the tooth, extreme tooth sensitivity and even jaw pain. A tooth pulp can become infected or inflamed due to the following:
Deep Decay
Trauma/Fracture
Dental Abscess
Root Resorption
Repeated Dental Procedures
What Happens During a Root Canal?
The procedure itself is nothing to fear. At Soft Touch Dentistry, we use the most advanced root canal methods and the latest anesthetic techniques, which can even minimize the brief discomfort of getting a numbing injection. Patients may also choose to receive sedation dentistry for a more relaxed experience.
The first step is to remove the infection from the center of the tooth.  To do so, an opening is made on the top of the tooth and the entire pulp is removed through the tooth canals. Don't worry; a tooth doesn't need its pulp to survive and function. Next, the canals are disinfected with a special cleansing solution, and a filling material is used to fill the tooth center to seal its canals. Most patients will then need a dental crown to protect the tooth and restore it to its natural form and function.
At Soft Touch Dentistry, we have the knowledge, experience and technology to ensure your teeth are restored with excellence. Whether you have suffered a severe trauma to a tooth or you let a cavity progress too far, we are here to help you with compassionate, patient-centered care. If you need a root canal, we will walk you through the process and respect your comfort at every step. Call today to learn more about root canals from a trusted dentist in O'Fallon!
Soft Touch Dentistry
1214 Paragon Dr
O'Fallon, IL 62269
(618) 622-5050