Addressing Your Dental Anxiety
December 21, 2020
Dental Anxiety Options, Fear Of the Dentist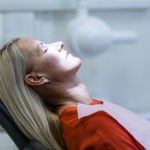 Dental anxiety or dental fear is what keeps 9% to 15% of Americans from receiving dental care each year. Whether it is the mere mention of the word "dentist" or the thought of an extensive dental procedure that sends your heart racing, there are ways your dentist can help. While most modern dental practices are equipped with highlighted comfort amenities, such as blankets, soothing music and TV entertainment, there is another remedy that is sure to help you relax. Sedation dentistry allows patients with mild to moderate dental anxiety to undergo dental procedures without suffering panic or stress.
At Soft Touch Dentistry, we offer the unique ability to provide both nitrous oxide sedation (laughing gas) and oral conscious sedation (sedative pill) as well as IV Sedation. Dr. Sarah Thompson is a licensed IV sedation dentist. She makes up less than 5% of all dentists in American and just 1% of dentists in the world. Our various levels of sedation are designed to accommodate each patient's specific level of discomfort or fear.  We are happy to explain the benefits of each and help you decide which one is best for you or your child.
Is Sedation Dentistry Right for You?
A fear or phobia of the dentist is not uncommon. There are many factors that can influence this condition, and it is a very real condition. While children are more likely to suffer from dental anxiety, or fear of the unknown, adults can experience a true fear of the dentist. In nearly all cases, sedation dentistry can address these concerns and enable a more comfortable patient experience.
Sedation dentistry is commonly provided for patients with the following:
Aversion to Sights, Sounds and Smells of the Dentist (latex, dental drill, etc)
Fear of Needles
Difficulty Getting Numb
Extensive Treatment Needed
Special Needs (or difficulty sitting still)
Severe Gag Reflux
Bad Dental Experience in Past
Regardless of what triggers your dental anxiety or dental fear, never be too shy to share your concerns with your dentist. At Soft Touch Dentistry, we do our best to remove any obstacle that is preventing you from getting the top quality dental care your smile needs and deserves. Your oral health impacts the health of your whole body as well as your quality of life. If you are ready to eliminate your dental fear, ask us about sedation dentistry!
Soft Touch Dentistry
1214 Paragon Dr
O'Fallon, IL 62269
(618) 622-5050