The Power of a Smile: What's Holding You Back?
May 10, 2018
Cosmetic Dental Treatments, Smile Enhancement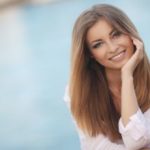 Do you know the power behind a smile? Studies have shown the remarkable impact that a smile can have on your personal well-being, your social acceptance, your health and so much more. In fact, social scientists have uncovered research studies that show that genuine smiles help you deal with negative emotions better, recover from grief more easily and be happier overall. Smiles portray positivity and warmth and can even boost your immune system and lower your stress levels. So what is holding you back from smiling more and gaining these powerful benefits? For many, it is the way their smile looks that makes them smile less or even hide their smile.
If you aren't tapping into the power of your smile due to teeth imperfections, cosmetic dentistry can help. It may not be as time-consuming, painful or costly as you may think. In fact, a large majority of cosmetic dental procedures can be performed in 1 to 2 office visits. With the use of sedation dentistry and modern office amenities, your smile enhancement can feel more like a trip to the spa than the dentist.
Don't like the teeth you were born with? Unhappy with the way your smile looks after a mouth injury or years of poor dental habits? You are not alone. Cosmetic dentistry is designed to address a wide variety of smile flaws, including the following:
Chipped, cracked or broken teeth
Missing teeth
Discolored or stained teeth
Misshapen teeth
Teeth that are too long or too short
Crooked teeth
Gapped teeth
Cosmetic dentistry can include a procedure as simple as one-hour teeth whitening or non-invasive dental bonding. It may also involve porcelain veneers, a dental bridge or implants for more severe dental concerns. The best part of cosmetic dentistry is that you get to be the guide. As long as your dental health is protected, you can create the smile you have always wanted or simply regain the one you once had. Due to modern technology and advanced materials, cosmetic dental solutions are more natural-like and durable than ever before.
Would you like to smile more confidently, or better yet, smile more often? Consider a smile makeover from one of the country's top cosmetic dentists. Call Dr. Sarah Thompson in St. Louis today. We offer Dental Tourism for out-of-town patients. A pretty smile is always within reach.
Posted on behalf of Dr. Sarah Thompson, Soft Touch Dentistry
Follow us on:
Soft Touch Dentistry
1214 Paragon Dr
O'Fallon, IL 62269
(618) 622-5050