Smile Makeover Versus Full-Mouth Reconstruction
August 15, 2018
Restorative Dentistry, Smile Makeovers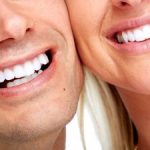 While most people come to the dentist for a single procedure, there are times in which multiple dental services are needed at one time or in subsequent stages. You may be familiar with the terms "smile makeover" and "full-mouth reconstruction," as these are two of the most extensive dental services offered at most practices. Both a smile makeover and a full-mouth reconstruction are designed to make multiple changes to a person's smile. However, they have some distinct differences as well.
Smile Makeover
A smile makeover is purely cosmetic, which means that although you may be recreating your entire smile, your reasons lie within aesthetics alone. A smile makeover typically requires multiple cosmetic procedures to satisfy a patient's individual goals. Depending on your unique concerns, your smile makeover may include the following cosmetic dental services:
• Bonding
• Veneers
• Teeth whitening
• Laser gum reshaping
Full-Mouth Reconstruction
Unlike smile makeovers, a full-mouth reconstruction is usually done to improve the health or function of multiple teeth. While aesthetics certainly play a role in the overall goals of a full-mouth reconstruction, it is functionality that drives the need for a full-mouth reconstruction. This extensive procedure is performed when a patient has several teeth that are diseased, damaged or missing. Typical services included in a full-mouth rehabilitation include:
• Dental implants
• Crowns
• Bridges
• Fillings and root canals
The Overlap
Because every smile is unique, it is very common to have patients who need drastic changes to their smile that involve both cosmetic services and restorative services. Therefore, a smile makeover and full-mouth reconstruction do not have to exist separately. In fact, they commonly overlap.
Does your smile need a rebuild? Whether it involves a cosmetic procedure or a restorative service, we can help you attain the healthy, functional and beautiful smile you deserve. Call Soft Touch Dentistry today to schedule your consult with a leading O'Fallon dentists who stays at the forefront of modern dentistry. We proudly offer special ways to make your procedure a comfortable and stress-free experience.
Posted on behalf of Dr. Sarah Thompson, Soft Touch Dentistry
Follow us on:
Soft Touch Dentistry
1214 Paragon Dr
O'Fallon, IL 62269
(618) 622-5050