Is Your Child Wearing A Mouth Guard In Sports?
September 11, 2015
Mouth Guards for Contact Sports, Protecting Children's Teeth During Sports, Teeth Grinding Treatment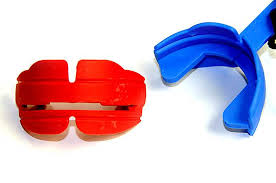 If your child is playing sports, we know you have a lot of equipment to purchase and keep up with. In your efforts to find the latest model cleats or right sized helmet, don't forget about protective mouth gear. It may not be required for every sport, but if your child is on the roster for any type of contact sport, you need to consider a mouth guard investment.

Custom mouth guards can prevent a wide range of serious and costly injuries, including damage to the jaw, teeth, lips, cheeks, gums and tongue. They can also protect against neck injuries and concussions! To help parents and young athletes realize the importance of wearing a mouth guard, here are some statistics:
It is estimated that more than 200,000 oral injuries can by prevented each year just by wearing protective mouth gear when participating in practice or a game. (American Dental Association)
An athlete is 60 times more likely to sustain damage to their teeth when not wearing mouth gear. (The National Youth Sports Foundation for Safety)
2 out of 10 children only wear a mouth guard at games, not practice. (Delta Dental)
Most organized sports-related injuries occur during practice rather than games. (Safe Kids USA)
Now that you know how critical a mouth guard is, let's talk about what type to purchase. For many kids, the downfall of wearing a mouth guard is that they are uncomfortable, make them gag or fall out too easily. To remedy this and get the best protection possible out of a sports mouth guard, you will need to skip the trip to the store and visit your dentist instead. A custom-made mouth guard from your dentist offers far more benefits than store-bought guards (boil-and-bite). Patients will need a quick appointment so the dentist can get an impression of the teeth. Within a few days, you can pick up what is perhaps the best piece of dental insurance you will ever buy for your child.
At Soft Touch Dentistry, we proudly offer high-quality, durable mouth guards so that your child is protected comfortably while on the playing field.
Posted on behalf of Dr. Sarah Thompson, Soft Touch Dentistry
Follow us on:
Soft Touch Dentistry
1214 Paragon Drive




O'Fallon

,

IL

62269


Phone:

(618) 622-5050