Holistic Approach to a Healthy Mouth
October 18, 2019
Holistic Dentistry, Natural Remedies for Dental Problems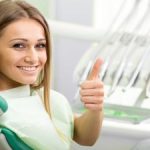 When it comes to keeping healthy teeth and gums, there is no replacement for daily brushing and flossing and regular dental visits. However, nature also provides us with some very helpful ways to protect and boost your oral health. Check out the following plant-based remedies in preventative dental care:
Oil of Oregano to Halt or Slow Decay
Not all cavities must be treated right away. Sometimes a small area of decay needs to be monitored more closely to make sure it doesn't grow or spread. Oil of Oregano is a natural antiseptic that has been used to not only prevent tooth decay but possibly slow cavity growth.
Xylitol to Balance Oral pH
Xylitol is a natural sweetener for your taste buds and powerful cavity-fighter for your teeth. Xylitol is derived from plant fibers and carries the natural ability to help to prevent the spread of bacteria as well as stop oral bacteria from producing cavity-causing acids. This works to keep the overall pH in the mouth as neutral (and healthy) as possible. You can find Xylitol in certain toothpastes and chewing gum.
Clove Oil to Relieve Pain
It is never okay to mask your dental pain, as there may be something serious that needs to be addressed by your dentist. However, if you are waiting to see your dentist and need natural pain relief, you can turn to cloves. Clove oil can be swabbed on the affected tooth for effective pain relief. In addition, clove oil has been known to restore tooth enamel so it can also help your tooth retain vital minerals until the pain culprit is treated.
Neem Bark to Fight Infection
Neem sticks can be chewed to fight cavity-causing bacteria and ward off infection within the gums. Neem bark can also be used to naturally whiten the teeth and combat bad breath.
Green Tea to Get Fluoride
Sipping on unsweetened Green Tea can be a natural fluoride treatment for your teeth. The considerable amount of fluoride found in Green Tea works to prevent cavities, but it should not be used as your sole source of fluoride or as a substitute for fluoride treatment from your dentist.
At Soft Touch Dentistry, we value what nature has given us to keep our mouths and bodies healthy. We also understand the importance of modern dental care and daily oral hygiene habits that keep our teeth healthy and strong. If it has been six months or more since your last dental checkup, please call Dr. Thompson today to schedule your appointment. A confident smile is a healthy smile!
Soft Touch Dentistry
1214 Paragon Dr
O'Fallon, IL 62269
(618) 622-5050