Could Flossing Reduce Your Risk for Oral Cancer?
August 21, 2019
Dental Health and Oral Cancer, Signs of Oral Cancer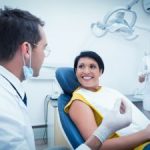 Are you flossing every day? A staggering number of Americans neglect this important oral hygiene task. Perhaps if more patients understood the cause-and-effect relationship between flossing and health, it would keep them motivated. Flossing helps prevent bad breath, gum disease and tooth decay. But did you know that flossing may also protect you against oral cancer?
We know that oral cancer risk factors include alcohol consumption, tobacco use, HPV, sun exposure, genetics and a weakened immune system. However, current research also includes poor oral hygiene as a potential risk factor for mouth cancer. In fact, recent studies have discovered that people who floss at least once a day are invariably less likely to develop oral cancer. The study compared behaviors of individuals who developed oral cancer and those who did not. Researchers saw that people who did not develop cancer went to the dentist once a year and flossed at least once a day.
The Symptoms and Dangers of Oral Cancer
Oral cancer should never be taken lightly. In fact, it is one of the deadliest cancers if not treated early, killing roughly one person every hour, 24 hours a day. Oral cancer can affect the lips, gums, tongue, cheeks and throat. To ensure you get the earliest and most successful treatment, learn the following warning signs of oral cancer:
Lip or mouth sore that isn't healing after 2 weeks
White or reddish patches inside the mouth
Growth or lump in the mouth
Difficulty or pain when swallowing
Loose teeth
Persistent mouth or ear pain
Schedule Your Oral Cancer Screening and Start Flossing
If you are not flossing every day, what is your excuse? Whether it is a lack of time or lack of knowledge, we want to help you establish flossing as a daily habit. At Soft Touch Dentistry, it is important to us that we equip our patients with everything it takes to prevent oral cancer. We also offer oral cancer screenings as part of your routine dental checkup. Schedule your appointment today.
Posted on behalf of Dr. Sarah Thompson, Soft Touch Dentistry
Follow us on:
Soft Touch Dentistry
1214 Paragon Dr
O'Fallon, IL 62269
(618) 622-5050