Brushing and Flossing: Does Order Matter?
January 21, 2019
Teeth Brushing and Flossing, Tips for Dental Health Care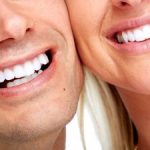 Whether young or old, brushing and flossing are the daily commandments of proper dental hygiene. Brushing for two minutes twice a day and flossing daily is the best way to remove plaque and food debris from all surfaces of your teeth, which helps you avoid subsequent cavities, staining, bad breath, gum disease and other dental problems. While the most important thing is that you complete these tasks, there is some debate about which one should come first. Do you brush before you floss? Is that the best way?
After countless dental experts have consulted on this matter, there is not a definite conclusion about whether patients should brush or floss first. However, the evidence about flossing before you brush is quite strong. If you choose to thread your floss between your teeth as a first step, you allow your brushing session to rinse away all the food debris, bacteria and plaque that was dislodged during flossing. After all, not every harmful particle remains on the floss thread and it can easily just float around to another area of your mouth without getting completely removed.
Flossing cleans up to 34% of your tooth's surface; so don't make the mistake of assuming you don't need to do it. As mentioned before, the act of both brushing and flossing is far more important than the order you do it in. If you simply prefer to begin your oral hygiene routine with your toothbrush and toothpaste, consider at least rinsing with water or a mouth rinse after you floss. Some dentists even suggest that you brush, floss and then spit out your toothpaste at the very end.
If you are unsure about whether your personal preferences for dental hygiene are optimal, please discuss it with our team at Soft Touch Dentistry. We are diligent about offering advice on the best ways to maximize your dental care efforts at home. After all, we only get to see you twice a year, the other 363 days are up to you!
Posted on behalf of Dr. Sarah Thompson, Soft Touch Dentistry
Follow us on:
Soft Touch Dentistry
1214 Paragon Dr
O'Fallon, IL 62269
(618) 622-5050