Are Lumineers Right For You?
July 22, 2019
Alternative to Porcelain Veneers, Replacing Chipped Teeth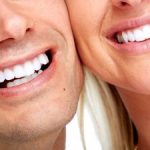 For a cosmetic dentist, one of the quickest and most effective ways to create a beautiful smile is to use veneers. Veneers are typically shells of porcelain that are bonded on the front surface of the teeth to hide imperfections. This cosmetic dental solution offers remarkable versatility, as veneers can address mild to moderate malocclusion, teeth with unsightly gaps, broken teeth, chipped teeth and even teeth that are extremely discolored. A highlighted advantage is that multiple flaws can be fixed in one procedure – saving time and money for the patient.
There is more than one type of cosmetic veneer available in modern dentistry. Traditional porcelain veneers are widely used, but they require certain preparatory techniques that involve shaving off a small portion of your enamel so that the veneers can bond in place. This makes porcelain veneers very durable, but also irreversible.
A Quicker and Reversible Veneer
For patients who are afraid to commit to a smile makeover with veneers, Lumineers may be a better option. Lumineers are thinner than traditional veneers (about the width of a contact lens). They also consist of porcelain to resemble the translucency and appearance of a natural tooth. The primary difference is in the fact that most patients do not have to lose any enamel in order to get Lumineers. In fact, they can be removed with relative simplicity if the patient desires. Lumineers are also considered to be an easier and faster procedure.
Not all patients qualify for Lumineers. If your teeth have damage or if you want a more long-term solution, traditional porcelain veneers may be best. The good news is that at Soft Touch Dentistry, we have a talented cosmetic dentist who offers both! Call today to schedule your smile makeover consultation.
Posted on behalf of Dr. Sarah Thompson, Soft Touch Dentistry
Follow us on:
Soft Touch Dentistry
1214 Paragon Dr
O'Fallon, IL 62269
(618) 622-5050