Answering Your Teeth Whitening Questions
November 7, 2015
Teeth Whitening FAQs, Whiter Teeth, Yellow or Stained Teeth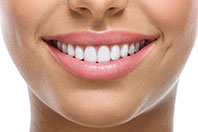 We all want a bright smile. Teeth that are white signal a more youthful, attractive and confident appearance. Teeth whitening is the most requested procedure in cosmetic dentistry. If you are considering teeth whitening, here are some FAQ's that may help you prepare:

Why Are My Teeth Yellow?
Teeth can appear yellow or discolored for a number of reasons. Teeth can stain from food and drinks, such as coffee, wine, soy sauce and blueberries, or from a smoking habit. We all have a yellow layer of dentin underneath our enamel (outermost layer). Therefore, when our enamel thins (either from the aging process or from enamel erosion), this yellow or pale grey layer shows through more easily.
How Does Teeth Whitening Work?
Most teeth-whitening products work by removing dirt, stains and debris off your enamel. These products all contain hydrogen peroxide (or a compound that breaks down into hydrogen peroxide, like carbamide peroxide). This ingredient releases oxygen molecules on your teeth to react with and lift staining materials.
How Do Whitening Products Differ?
While most whitening products contain the same ingredient, they can differ in the strength of hydrogen peroxide. Drugstore products may range from 3% to 5%, while your dentist can supply you with a whitening gel that is anywhere from 15% to 40%. Obviously, the stronger the percentage, the more concentrated the hydrogen peroxide and the more effective it can be. With a higher percentage gel, however, comes a greater risk for tooth sensitivity. Your dentist can prescribe a strength that can meet both your goals and comfort level.
Whitening products can also differ in the delivery system. Your dentist may offer a professional whitening session of just one hour in the dental chair using advanced light therapy. Other methods include whitening trays or strips that are placed on the teeth for a certain amount of time over the course of 1-2 weeks.
Will whitening destroy my tooth enamel?
This is a myth. As long as you use your whitening system as instructed (not leaving it on too long, etc), then your enamel should not be damaged in the short-term.
Are there times when I should not whiten my teeth?
Teeth Whitening is considered very safe, particularly if you go to your dentist. However, women who are pregnant or breastfeeding should avoid teeth whitening, along with teens who still have baby teeth. Patients with gum disease or sensitive teeth should ask a dentist before initiating a whitening treatment. Also, keep in mind that whitening is designed to whiten only your natural teeth, not crowns, fillings or other dental restorations.
How long will my results last?
How long your new bright smile lasts is directly based on how you care for it. Limiting staining foods and drinks, avoiding nicotine products and using a whitening toothpaste can extend your results. Also, professional teeth whitening (those from your dentist) is said to last longer than store-bought products. Therefore, consider the extra investment if you want to retain your sparkling white teeth for a longer period of time.
Want to learn your options in teeth whitening at Soft Touch Dentistry? Give us a call. We proudly offer both ZOOM teeth whitening as well as home teeth whitening systems that can significantly lighten your smile and reverse a dingy or yellow look.
Posted on behalf of Dr. Sarah Thompson, Soft Touch Dentistry
Follow us on:
Soft Touch Dentistry
1214 Paragon Drive
O'Fallon, IL 62269
Phone: (618) 622-5050