An Easy Way to Reclaim a Youthful Smile
December 16, 2019
Get a Brighter Smile with Cosmetic Dentistry, Whitening Your Teeth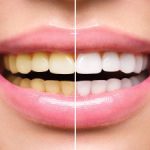 You can have healthy, well-aligned teeth and still have a dingy-looking smile. Staining and discoloration on your teeth are very hard to avoid, especially as you age. Whether it's coffee, red wine or smoking, daily habits can sabotage the brightness of your smile over time. Unfortunately, yellow and stained teeth can make you less approachable and look much older than you really are.
If your teeth are adding years to your appearance, you may find an affordable, effective and highly convenient solution with professional teeth whitening. Whitening from your dentist ensures lasting, professional-grade results with minimal sensitivity to your teeth and gums. Finding a dentist who offers ZOOM Whitening makes the experience even easier. In as little as an hour, you can lighten your teeth by several shades!
There's a reason why over one million patients are happy with their ZOOM Teeth Whitening experience. Not only does ZOOM technology deliver clinically proven results, it is also designed with your comfort, convenience and budget in mind. Teeth whitening has remained the most sought-after cosmetic dental treatment for several years in a row. By professionally whitening your smile, you can gain the following:
Comfortable treatment time
Quick office visit
Long-lasting results
Safe for teeth and gums
Overseen by a dental professional
Whiter, more attractive and younger-looking teeth
What You Can Expect with ZOOM
When choosing Soft Touch Dentistry for ZOOM Teeth Whitening, you'll be asked to sit back in a dental chair as you are offered special amenities to keep you comfortable. First, we apply the ZOOM whitening gel (low concentration hydrogen peroxide) to your teeth. Next, the gel is activated by ZOOM's patented blue light for a 20-minute treatment time. While ZOOM technology reverses your teeth stains, you can relax by listening to music, watching TV or taking a short nap. This process is typically repeated twice more before you go home with your brilliant new smile.
Ready to learn more about professional teeth whitening and why it is superior to over-the-counter whitening products? Call Soft Touch Dentistry. We are happy to discuss your goals for cosmetic dentistry and how ZOOM Whitening can turn back the hands of time for your appearance.
Soft Touch Dentistry
1214 Paragon Dr
O'Fallon, IL 62269
(618) 622-5050