5 Reasons to Consider Cosmetic Dentistry
June 9, 2015
Brighter Smiles, Cosmetic Dental Procedures, Smile Makeovers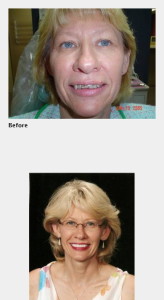 Unlike preventative dental care, cosmetic dentistry is considered elective. Improving the appearance of your smile is certainly not required, but have you ever really considered its powerful paybacks? Cosmetic dental treatments range from bonding and teeth whitening to porcelain veneers and full smile makeovers. Regardless of which procedure you choose, there are noteworthy benefits to be gained, including the following five:

#1 Corrects a Wide Range of Flaws
One of the most significant benefits of choosing cosmetic dentistry is the extensive menu of options you have to address all types of aesthetic concerns. There are procedures that can instantly correct stains, misshapen teeth, too small or too big teeth, chips, cracks, gaps and much more. The sky is the limit when it comes to improving your smile with cosmetic dentistry.
#2 Helps You Look Younger
You may be surprised at how much younger you can look with a more attractive smile. Whitening your teeth, correcting dental erosion and even lengthening your teeth can take years off of your appearance. In fact, some dentists market their cosmetic dental services as an alternative to a facelift!
#3 Boosts Your Career
Improving your smile can impact professional career, even if you are not an actor or model. By gaining more confidence to smile, you will find that you exude a more secure role for leadership, responsibility and motivation. In addition, co-workers and clients will be more drawn to your more pleasant and happier look.
#4 Improves the Health of Your Smile
You are not just benefiting aesthetics when you choose cosmetic dentistry. Some procedures, such as bonding, can strengthen your teeth and prevent future dental damage. Other treatments, such as Invisalign, can straighten your teeth, which makes them easier to clean and less prone to cavities and gum disease.
#5 Ultimate Self-confidence Boost
With a younger and more attractive appearance, you can also expect to gain significant ground when it comes to your self-confidence after your cosmetic dental procedure.
Smiling releases endorphins that help you reduce stress and anxiety, and studies suggest that this simple action can also boost your immune system. If investing in cosmetic dentistry will help you smile more, your investment is worth far more than you may think!
Posted on behalf of Dr. Sarah Thompson, Soft Touch Dentistry
Follow us on:
Soft Touch Dentistry
1214 Paragon Drive




O'Fallon

,

IL

62269


Phone:

(618) 622-5050