Custom Mouthguards and Concussion Prevention
December 21, 2016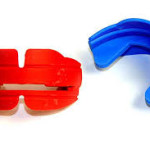 You may be aware of how an athletic mouthguard can prevent knocked out teeth and mouth lacerations during sports, but did you know that it is a small piece of equipment that can also prevent concussions? In any given sport season, approximately 5-10% of athletes will experience a concussion. According to the CDC, 1.6 million to 3.8 million concussions occur yearly. It has become a concern that has gained widespread attention, even from the White House. President Obama took action to raise concussion awareness during his recent presidential term.

A mouthguard should certainly never serve as a substitute for a helmet. However, it can provide an additional method of protection for the skull. How does an appliance in the mouth protect the head? A mouthguard keeps the jaw in proper alignment and prevents it from being pushed into the skull during a forceful impact, which can trigger a concussion.
Now that you are convinced to invest in an athletic mouthguard for your young athlete, you will need to decide which type to buy. In general, you have two main options: a boil-and-bite mouthguard from a sporting goods store or custom mouthguard from your dentist. Always opt for the one your child will not only wear, but keep in his or her mouth while on the field. This typically means choosing a mouthguard that fits the best.
Since custom mouthguards are fabricated in a lab from an impression of your child's teeth, you can expect them to fit better and provide more durability. A professionally-fit guard should be comfortable enough to allow your child to breathe, speak and even drink water without removing it. If the mouthguard is secure, it will also stay in place during trauma and do its job to prevent concussion.
To learn more about custom athletic mouthguards from a reputable dentist, contact Soft Touch Dentistry today. We welcome the opportunity to protect your smile and save your child from serious head trauma.
Posted on behalf of Dr. Sarah Thompson, Soft Touch Dentistry
Follow us on:
Soft Touch Dentistry
1214 Paragon Dr
O'Fallon, IL 62269
(618) 622-5050